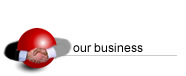 Horizon Solutions Inc. provides technology solutions for small and medium size businesses in the Bay Area. We specialize in the following fields:
Provide custom tailored business applications to securely deploy the internet for marketing, lead generation, e-commerce, and for customer relationship management (CRM). Small businesses put forth a great deal of time, effort, and money to aquire new customers, often failing to capitalize on existing customers for repeat sales and new lead opportunities. Our solutions will help you achieve both.
Develop and implement information system infrastructure to support all divisions of a business to communicate, monitor, measure, and optimize operations to achieve its strategic goals.
As the internet and the technology sector continuously evolve, we constantly enhance our products and services to capitalize on newer tools and technologies to be competent in the market and provide state of the art business solutions directly and through sub-trades.